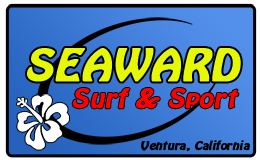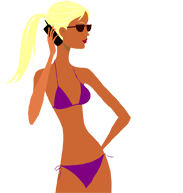 Surf Rentals
Seaward Surf & Sport
1082 South Seaward Ave.
Ventura, California 93001
(805) 648-4742

Open Daily:
9:00am - 7:00pm

Seaward Surf and Sport was established in 2004 as a simple board rental store. Over the past 4 years we have expanded to rent a full selection of beach and water equipment. We also now sell surfboards, body boards, skim boards, skateboards, sweatshirts, tshirts, swimwear, hats, and everything you need to have a great time at the beach. Contact Us to find out more!
Surf Rentals in Ventura, California
More than Surfboard Rentals.. Beach Rentals too!
Are you looking for the best way to rent a surfboard in Ventura, California? Are you looking for a beach rental store that is open year-round? Come visit our Surfboard Rental Store! We're located just half a block from the beach on Seaward Avenue in beautiful Ventura, California! Give us a call anytime. There is a good chance that we are open! Our hours are 9am-7pm daily.
Surf Rentals the easy way
At Seaward Surf & Sport, you can:
Park (for free) in front of the store (usually)
rent your surfboard (and/or wetsuit or body board)
walk it across the sand
put it in the water
surf!
No surfing skills? No problem! We can give you
lessons
!
Surf Rental Pricing
Current Rental Pricing August 25, 2008
EQUIPMENT
RATES - Per Day
2 hr
4 hr
8-24 hr
Extra
Week
Wet Suit - Full
$10
$15
$7
$45
Wet Suit - Spring
$8
$12
$6
$35
Rash Guards
$3
$5
$2
$15
Booties
$5
$10
$5
$30
Body Boards
$8
$10
$15
$7
$45
Skim Boards
$8
$10
$15
$7
$45
Soft Surfboards - "SURFACE"
$15
$20
$30
$15
$90
Soft Surfboards - "SURFTECH"
$25
$40
$50
$25
$130
Hard Surfboards
$25
$40
$50
$25
$130
Kayaks - Single
$30
$40
$25
$120
Kayaks - Double
$40
$50
$35
$160
Sand Chair
$3
$5
$2
$15
Volley Balls
$2
$4
$2
$12
Life Vests
$5
$8
$4
$15
Fins
$5
$10
$5
$30
Board Racks - Soft
$5
$10
$5
$15
Bicycle - Cruisers
$15
$20
$30
$15
$90
Bike Rack for Car
$5
$10
$5
$15
Surf Rental Products
... a little about the surf rentals we carry ...
PICTURE
DESCRIPTION

SURFBOARDS

The staple of a sunny Southern California beach town, surfing is an excellent way to spend your day at the beach. We offer "Soft-Top" style surfboards by Surface that are easy to use for beginners and experienced surfers alike. However, for the more experienced surfer, we also offer surfboards by Surftech. These are also a "Soft-Top" style but have a solid core and act more like the typical fiberglass hard boards. They're easy to use and have a great feel.

BODYBOARDS

Get wet and have fun in the sun on classic styled boogie boards. They're great for both children and adults alike and can be used with all sizes of waves from great to small. They're light, easy to transport, and loads of fun.

KAYAKS

Kayaks are a wonderful way to spend a sunny afternoon. Head out with a friend in one of our double kayaks or each take your own. Better yet, make it a family day. You're welcome to take them with you to your favorite spot, but please be prepared. You will need a large vehicle to transport them.

BICYCLES

Take the day to just relax on a ride down one of our many wonderful bike trails down the beach or up to beautiful Ojai. For your riding pleasure, we offer the most comfortable beach cruisers around. We will also provide for you a lock and chain, and a helmet upon request and availability. For those riding under the age of 18, helmets are a must. It's the law and no exceptions will be made. So grab a friend, go for a ride, and experience Ventura in comfort.

WETSUITS

For your convenience we also rent wetsuits. We carry both "Sping-Suits" and "Full-Suits" in a wide variety of sizes. Please be aware that these do go fast and that due to the many sizes and shapes of people (that's you) we can't always fit everyone. We will however, always try our best to fit you.
Come visit our Surf Shop! We're located just half a block from the beach on Seaward Avenue in beautiful Ventura, California!
Check out the Local Surf Report.